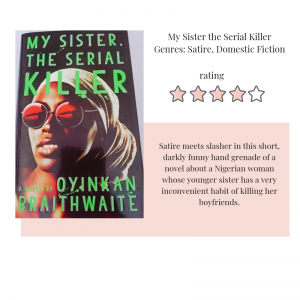 Being a ride or die for your sister takes on a different meaning, in Oyinkan Braithwaite's debut novel, "My Sister, the Serial Killer."
Set in modern Nigeria, this novel depicts the lives of two sisters who must navigate their own demons in a patriarchal society.
What attracted me to this novel was the beautiful cover and the entire premise behind the title. Before I even read a word of it I thought to myself 'what if my sister were a serial killer? What would I do?'
I still have not arrived at an answer, that's perhaps why I found this book so fascinating.
The title was both grabbing and a little misleading. While the book details the work of a serial killer and her enabling sister the story is not quite what I expected, I guess I was expecting more of a horror story, but don't get me wrong the narrative was still compelling and intriguing.
The book follows sisters Ayoola and the narrator, Korede who find themselves in a murderous killing spree.
Ayoola — the beautiful and captivating murderess, wrapped up in her own disturbing world of social media, and self-adoration kills man after man, unfazed by her actions, a definite sociopath.
While the older sister Korede, is a nurse and not nearly as beautiful as her younger sister but is a pillar of loyalty. There's no question that she has her sister's back and proves it time and time again, as her sister kills and makes her an accomplice, after the fact.
Although Korede, cleans up crime scenes and provides her sister with alibis, she still doesn't get the truth from Ayoola, which makes you question how can you take such a huge risk for someone who doesn't even provide the full one hundred.
Perhaps, haunted by the abuse of their father, growing up, Ayoola claims that each man abused her in some way, and it was self-defence, her only option was to kill or be killed.
The book begins at the scene of the latest murder as Korede is at the scene scrubbing down everything to ensure no evidence is left. In the thick of the action you are already nervous wondering will they be caught? Did they clean everything? Did anyone see them? The entire scene is nerve-wracking and from the jump, you're rooting for the sisters to get away before anyone stops them.
They manage to get away and once in the safety of their family home Korede begins to question Ayoola, who remains elusive and nonchalant about the entire experience.
Although Korede is apprehensive she still sticks by her sister through all the madness and as the story unfolds you get a better picture of who they are as sisters and that they've been there before.
What I love most about the book is the dynamic of the sisters. Growing up you as an older sibling you always hear that you must watch over and take care of the younger one, and that caregiver seed is planted in you and becomes part of your identity.
Oyinkan Braithwaite gets is so right with the writing both lighthearted and amusing, fits so well with the story and heavy themes. The writing was so smooth easy to read that I finished it in one single session.
I don't want to give away too much of the plot but what stuck with me was how Korede remained so loyal to her sister, although she knows her sister is definitely disturbed she still goes along with every story and every murder with little to no real concrete information from Ayoola, even when Ayoola preys on the doctor, who Korede wants for herself.
The entire premise of beauty in this book is something that is prevalent in society right now, that's why I think it works so well. Because Ayoola is beautiful she seems to get everything she wants from everyone in her life including her sister. Her beauty is what protects her from the world and she uses it to her advantage but then questions why men only see her as beautiful.
This book kept me captivated from the beginning to the end, I give it 4.5 stars out of 5. The only thing that was missing for me is I wanted to know more at the end I think it ended too abruptly. This book is a must-read for anyone who loves a great sibling story and/or murderous plot.
Have you read this book? What were your thoughts?
african writer
black book review
black books 2019
books by african writers
my sister the serial killer
Oyinkan Braithwaite