Happy Thursday my booklovin' sistas and Happy New Month!
And with a new month comes new reads of course!!!
Last Friday the 'This Black Girl Reads' crew met up for our second book club meetup to discuss Homegoing by Yaa Ghasi and the night was EVERYTHING!
We pulled apart and dissected each character, and discussed every theme you could think of. And although not all women were feeling the book, I realized that I loved it more than ever before.
The quote that stuck with me this time around was said in Yaw's chapter.
"We believe the one who has the power. He is the one who gets to write the story. So when you study history, you must always ask yourself, Whose story am I missing? Whose voice was suppressed so that this voice could come forth?"
Ain't that the truth tho?! Gurl, WOW! It's still giving me the chills.
If you're reading along with us this month our book club pick is Stay With Me by  Ayobami Adebayo and the next meeting will take place on Friday, April 26 at 7pm.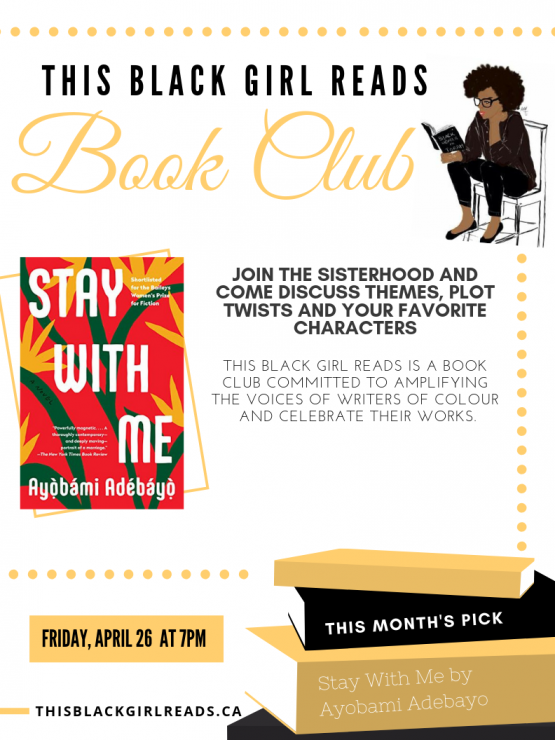 * For all of you non-local participants that are reading along with us we will have a live webinar stream if you want to join in, just email me for the details.
So last month Spring appeared and with it, my reading game leveled up. Gurl something magical happened and I ended up finishing 12 books last month! I read twelve freaking books in March!!!
Here are the books I read in March and my tiny review on each of them. You can check out all my reviews on Goodreads.
Speaking of books I read, I can't wait to read some books that are dropping in April. Here are a few books coming out this month that I can't wait to dig into… The ones that I bolded I received a pre-release copy and there will be a review on the blog and Goodreads.
The Afrikaner by Arianna Dagnino – April 1st
Meet Cute by Helena Hunting – April 9th
When We Left Cuba by Chanel Cleeton – April 9th
In the Key of Nira Ghani by Natasha Deen – April 9th
Before We Were Wicked by Eric Jerome Dickey – April 16th
Fumbled by Alexa Martin – April 23rd
Currently, I'm reading 'Before we were wicked' and I'm just finishing up 'SisterOutsider' by Audre Lorde. Well, that's it for me today!
Happy Reading!
black authors
black girls reading
black sisterhood
black voices
black women book club
black women winning
black writers
book club toronto
canadian women
Caribbean women
reading
stay with me