"They were Caribbean women, mules of the empire, forced to carry the burden of the Crown's dreadful legacy, of black bodies chained to the spines of ships, of broken families, of men disempowered, stripped of their status in the home, sent to roam the earth with only their sex to prove their manhood, slaves by blood and by circumstance, saga boy"
Of the 50+ books I've read so far this year, there is a handful that I can truly say are important, powerful, and beautiful works of art, and Saga Boy: My Life of Blackness and Becoming by Antonio Michael Downing is one of them. This memoir captured me completely, its sensitivity drew me in as it followed the family history and the epidemic of trauma that plagued a young boy's life.
In this memoir, we meet Antonio, Toni, Michael, or one of the many names he's been called in his life, and we follow his unstable journey from a boy to a man. From growing up in the lush island of Trinidad with all of its colonialism mixed with its beauty; to moving to Canada. 
We see each stage of his life and how he survived it. I loved the parts about his grandmother who raised him, and the foundation she built for him, a foundation that I feel truly sustained him during the bleak times in his life.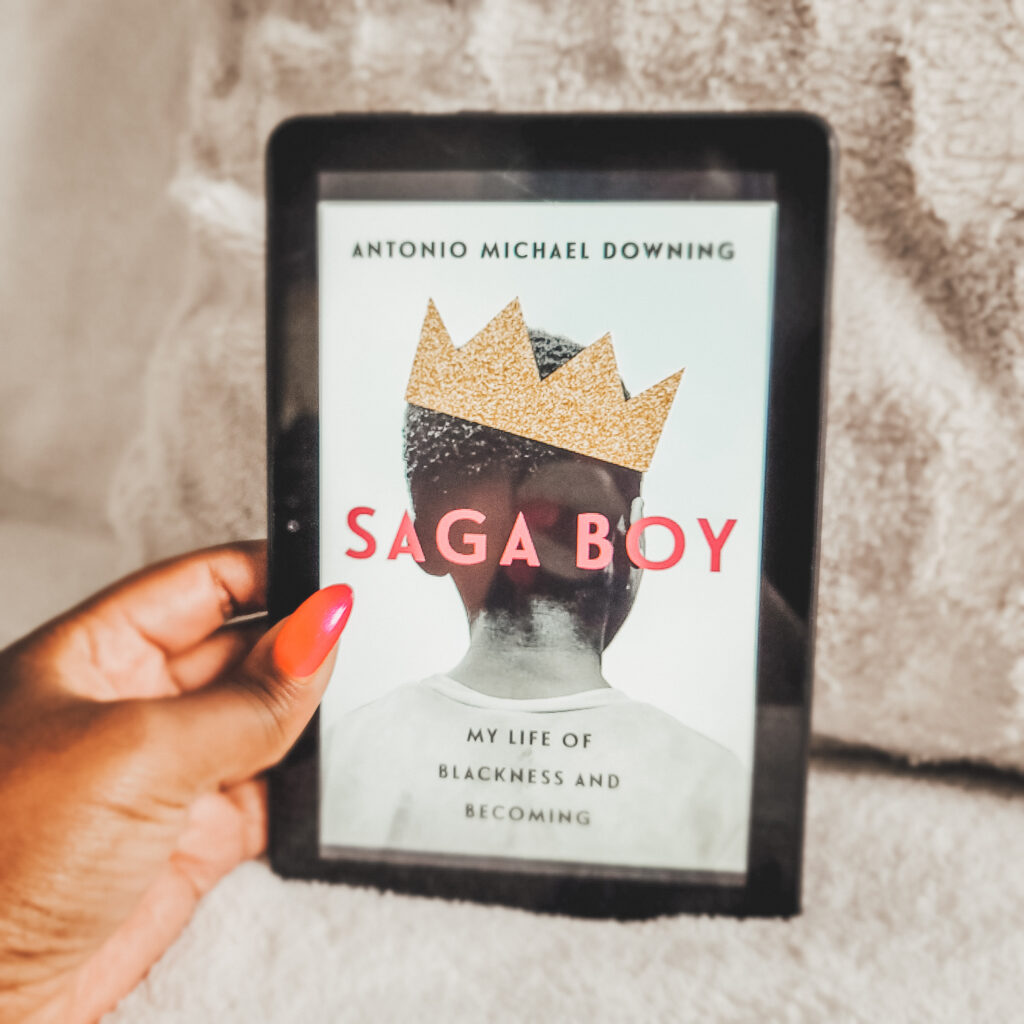 There is such pain and beauty in the writing that you cannot help but feel everything he feels. From losing his grandmother to being sexually assaulted in Trinidad, the anguish of connecting with his parents, to finding refuge in basketball, music, and later writing, Toni's experiences are raw and give us a look into his growth as a person and as a Black man. 
There were moments I had to drop the book because the tears wouldn't stop but I'm so glad that I  pushed through because the power of his story and his words are undeniable. 
What touched me most was his willingness to share the ugly parts of himself, to own them, to look at them, examine them and overcome them. I think there is so much much power in that because I think his words will help so many Black men who are struggling with their own story, their own identity, and their own truth. 
This book is a MUST READ!!!
---
Trigger Warning– Sexual Abuse, Drugs and Alcohol Abuse, Death, Child Abandonment and Colonization
Similar Books: Born A Crime by Trevor Noah, A Long Way Gone by Ishmael Beah, Between the World and Me by Ta-Nehisi Coates 
Have you read this one? What were your thoughts? Let me know in the comments.
autobiography by Black men
Black men stories
books by Black men
Saga boy book