"That was both the best and worst part, that all that happened was the unintended consequence of a good person's mistakes."
At its core Miracle Creek questions how far will parents go to save their children? Written by Angie Kim this book is a perfect fusion of court room drama and part mystery.
Part of the reason I chose this book is that it has something for everyone. It surprises, captivates, and makes us question our own instincts and prejudice.
---
Miracle Creek" opens with a fatal explosion at a small HBOT (hyperbaric oxygen therapy) facility in rural Virginia, owned and operated by Korean immigrants, Pak Yoo and his wife, Young. On an unusually eventful day marked by protests and a power outage, a fire breaks out near the oxygen tanks during a treatment session. What follows is the unraveling of this small community as we see each person is guilty in their own way, of something but who actually set the fire?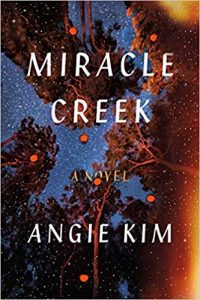 A gripping, fascinating and beautiful read that will leave you questioning, what would I do?
Although this book is way out of the realm of anything we've read before, I think that's also part of the beauty of it
Read with us as we examine the voice of another beautiful minority writer.
Buy the book here: https://amzn.to/316YQ9W
angie kim
asian writer
book club
books to read about family
diverse writers
family realtionship
miracle creek