April felt like it went by so quickly. I remember the first week, then bang it's May 1st. But since I read so many books in April, I know for sure it happened.
From the prose of beautiful poetry lines to tantalizing tales of Gingerbread, with a sprinkle of feminist thought, for me, April was a month of literary variety.
And what a month it was. In April, I welcomed the new release of Eric Jerome Dickey's new book, of one of my favourite authors from my twenties, and I quickly learned how much my reading appetite has changed, not that I didn't like it, it was just very different.
Truth is that I read so many good books this month, as you'll see in this post, but if I had to choose my favourite book it would have to be Sister Outsider by Audre Lorde. The only thing I can say about this collection is WOW! I have no idea why I didn't read this before, but as they say, better late than never. It was so insightful, educational and relevant, even so, many years later.
So let's get to the numbers. In April I read 13 books!!! Yes, thirteen.
I actually didn't realize that I read that many until I sat down to write this post. The first book I read in April was Still Me by Jojo Moyes, and I could hardly remember it until I went back and read my review.
Well here are all the books I read in April. Let me know your thoughts on them too.
I went into this not knowing this was part of a series but I thoroughly enjoyed it anyway. This book follows endearing and loveable Louisa Clark on her journey to NYC and her commitment to finding her path and saying yes more often. Louise gets a job, that she's not 100% sure of when she leaves England, but she dives in any way, excited and willing to give it a shot. The beauty of this story I believe is the way Louise manages to finally put herself first and follow her dreams. Very cute and fun read.
Read my full review. 3 Stars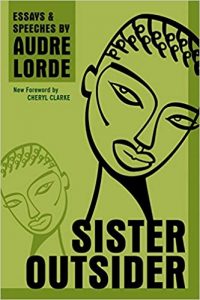 There's a reason that Audre Lorde's work has stood the test of time. In reality, it has been almost a quarter of a century since Audre Lorde's essays and speeches in Sister Outsider made a mark on 20th-century literature. But her words are unforgettable, lyrical and sadly still relevant today. From racism, homophobia, and classism this collection speaks words to the truths that plague our existence as black women. I wrote down at least 20 quotes from this collection and I suspect I will revisit it to catch what I missed the first time. A real gem. 5 stars
Before we were Wicked by Eric Jerome Dickey
Here's the thing about this book. I truly love Eric Jerome Dickey. His books were among the first that I fell in love with when I began obsessively reading in my early twenties. But the truth that I've realized that I'm not in love with them anymore. Granted I was a very different woman when I first read Dickey. I still enjoyed this book because it was filled with passion, intrigue and fascinating characters. Read full review. 3 stars
I didn't plan it the way it happened but I read this book and Sister Outsider only a week apart and they were extremely great companions. Ain't I A Woman provides a comprehensive historical and social analysis of the ways black women have been marginalized by both white feminist movements and civil rights movements run by black men. The historical anecdotes, references, and arguments had me shouting out loud as I read her words. This is a book every white feminist should read. 5 Stars
The Afrikaner by Arianna Dagnino
Overall I think this is a well written and engaging story about one woman's search for answers. But there's also a lot going on in this one. It took me a little longer than normal to get through it but once I did, I really liked the story. Set in South Africa after the apartheid the story follows a fossil hunter who is haunted by a family curse. I loved the setting as well as the sheer brilliance of the main character. Most of all I loved the description of the people and the land. 3 stars
I have to admit that I was attracted to this book because the main character was Guyanese and lived in Canada. Being of Jamaican descent living in Canada I was curious to know more about Nira's experience.
Nira is a teenager who lives with her parents and grandmother after escaping Guyana for safety reasons but they had to pretty much leave without their money. This book seemed very warm and well-written. Read my full review. 3 stars
I'm a little obsessed with the state of the Black experience in the US and Canada of course, so when I found this, through Ajax Public Library I was very curious. Basically this is a comprehensive guide filled with contemporary facts and figures on African Americans. With fascinating and often surprising information on everything from incarceration rates, lending practices, and the arts to marriage, voting habits, and green jobs, the contextualized material in this book will better attune readers to telling trends while challenging commonly held, yet often misguided, perceptions. Truly fascinating. 3 Stars
This is such a beautiful collection. Although the author only wrote in French and these were translated I must say that the description of the people and the beautiful imagery truly made the collection come alive. Read full review. 3 Stars
I read this book last year and it blew me away. So this year I decided it to read it a second time for the "This Black Girl Reads' Book Club and WOW. The second time was everything and more. The book follows married Nigerian couple Yejide and Akin who are madly in love but fighting to hold on to their love and modern values while the country and the customs threaten their marriage. A beautiful story about the woman's place and the lies that bind us. 5 stars
Last year, the first book I read was Michael Eric Dyson's novel 'Tears we cannot stop' and I was blown away by the sheer beauty and brilliance of his words and argument.
It suffices to say that this book was just as good if not better. Dyson continues his conversation about race in America that he began in Tears we cannot stop. This time though the basis of his argument centers around a discussion about race that took place in 1963 between Robert Kennedy, James Baldwin and a few of his friends. Read my full review 5 stars
There's no doubt that Oyeyemi is a beautiful writer and has some of the most luscious sentences I've ever read. But the truth is I did not love this book. I felt confused for half of it and I had to re-read to make sure I got what was happening. But overall I loved the themes and the gist of the story. If magical, realism isn't your cup of tea, you might want to pass on the gingerbread…lol.
Building a Brand Story by Donald Miller
Ok, it's time for me to admit that I'm a little obsessed with all things marketing and branding. Now that's out of the way I must say that I loved this book. Donald Miller's Story Brand process is a proven solution to the struggle business leaders face when talking about their businesses. This book is such a great resource to entrepreneurs who want to master their message and build their brand. 4 stars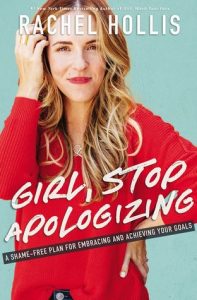 I've never read Rachel's blog and I don't follow her on social media and I have pretty much no contact with her brand other than reading this book, as well as 'Girl, Wash Your Face.'
Rachel's last book was just OK for me. I found the content a little repetitive and generic but her storytelling ability is second to none, that's pretty much what convinced me to read her second book and I'm so glad that I did.
This was a great read. Read full review. 4 stars
Well, that's it for me, 42 books down and 71 left, woohoo! Wish me luck y'all. If you want to follow my journey check me out on Instagram and follow what I'm reading on Goodreads.
What about you, what books did you read in April?